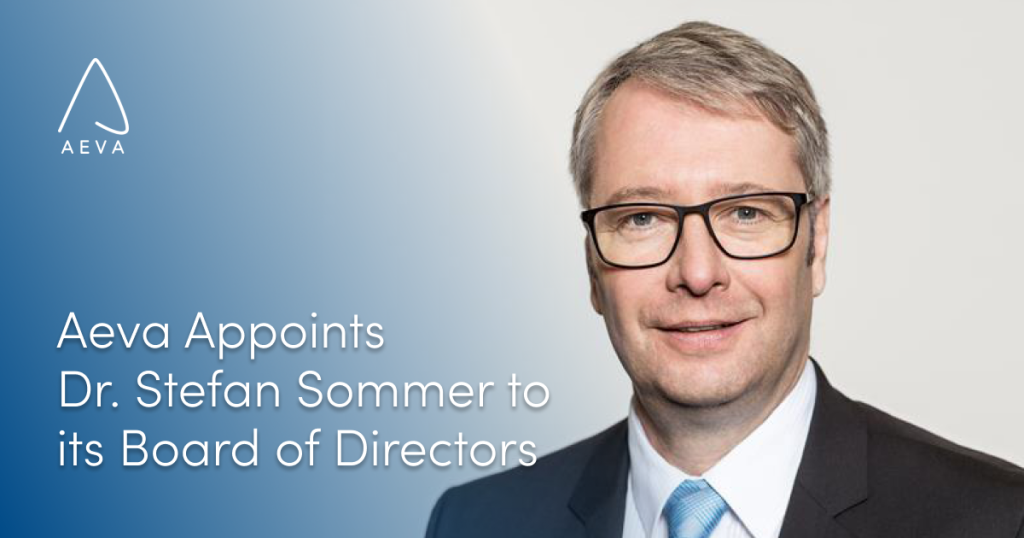 Automotive Industry Veteran Brings Decades of Leadership Experience to Help Accelerate Adoption of Aeva's 4D LiDAR Technology  
MOUNTAIN VIEW, Calif., November 7, 2023 – Aeva® (NYSE: AEVA), a leader in next-generation sensing and perception systems, today announced the appointment of Stefan Sommer to its Board of Directors, effective November 15, 2023.
"With a distinguished executive leadership career spanning many of the world's leading organizations in the automotive industry including top global automotive OEMs and Tier 1 suppliers, we are pleased to welcome Dr. Sommer to Aeva's Board of Directors," said Mina Rezk, Chairman of the Board, Co-founder and Chief Technology Officer at Aeva. "His extraordinary breadth of experience, including executing a growth strategy that resulted in ZF becoming one of the largest Tier 1 automotive suppliers globally, will benefit Aeva on our path to commercializing and broadening adoption of our 4D LiDAR technology in automotive and will help further our mission toward bringing perception to everything."
Dr. Sommer is a Member of the Supervisory Board at Knorr-Bremse AG, a global leader in safety technology for the automotive and rail industries. Prior to this role, he has held a variety of leadership positions including Chief Executive Officer of ZF AG, as an appointed member to the Board of Management of Volkswagen AG in Wolfsburg with responsibility for the Components and Procurement business, and several leadership positions within the Continental Group. Dr. Sommer studied Mechanical Engineering and earned his Engineering Doctorate from Ruhr University Bochum.
"The automotive industry is undergoing profound technological change where innovation will be driven through partnerships with advanced technology solution providers," said Dr. Sommer. "Aeva's FMCW technology holds a unique potential to help advance the industry to new levels of automation and safety within the automotive industry and across a wide array of industrial applications. I look forward to bringing my experience to bear for Aeva as we bring this next-generation sensing and perception technology to market."
About Aeva Technologies, Inc. (NYSE: AEVA)
Aeva's mission is to bring the next wave of perception to a broad range of applications from automated driving to industrial robotics, consumer electronics, consumer health, security and beyond. Aeva is transforming autonomy with its groundbreaking sensing and perception technology that integrates all key LiDAR components onto a silicon photonics chip in a compact module. Aeva 4D LiDAR sensors uniquely detect instant velocity in addition to 3D position, allowing autonomous devices like vehicles and robots to make more intelligent and safe decisions. For more information, visit www.aeva.com, or connect with us on X or LinkedIn.
Aeva, the Aeva logo, Aeva 4D LiDAR, Aeries, Aeva Ultra Resolution, 4D Perception, and 4D Localization are trademarks/registered trademarks of Aeva, Inc.  All rights reserved. Third-party trademarks are the property of their respective owners.
Contacts
Media:
Michael Oldenburg
press@aeva.ai
Investors:
Andrew Fung
investors@aeva.ai